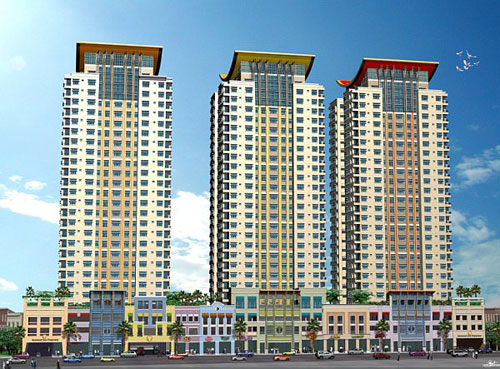 PERSPECTIVE VIEW
Location:

Araneta Center, Cubao, Quezon City
Landmarks:

Beside Gateway Mall & Araneta Coliseum
Price Ranges:

Php

1.63 - 4.936 Million (subject to change w/out prior notice)
Status:
Pre-selling, Newly Launched Tower 3 & 4 What is Pre-selling? Click here
Turn Over:
Tower 1 & 2 - 2010, Tower 3- 2011, Tower 4- 2012
Availability:

Prime units & regular units now available for reservation
Type of Units:
Single Level, Flat

Size:
22.50 sqm - 78.5 sqm
Bedrooms:

Studio, 1, 2, 3
Bathrooms:
1,2
No. of Floors:
28-storey
No. Tower/s:

17
Developer:

Megaworld Properties Inc.
Terms of Payment:
Cash & In-house financing
Project Concept
Strategically located at the crossroads of Metro Manila, the Araneta Center is home to the most exciting community the country has ever seen.
The 35-hectare Araneta Center in Cubao, Built by the Araneta family as the country's first leisure and lifestyle complex in the 1960s, it is now a vibrant showcase of urban living.
And right here, in a prime five-hectare spot, Manhattan Garden city debuts as an address of luxurious proportions.
Own a home that gives you the power to go places. Manhattan Garden City is the Phillipines's First-ever garden-inspired, transit-oriented community that is connected to two existing mass transit systems.
Set in the less bustling northeastern residential side of the Araneta Center, Manhattan Garden City enjoys a peaceful yet privileged location. Be right in the pulse of things as Araneta Center's five-kilometer catchment area covers Quezon City, Marikina, Pasig and Madaluyong, as well as the municipality of San Juan.
With all 20 residential towers facing the prominent Araneta Coliseum, Manhattan Garden City soars above the imposing Araneta Center skyline. Right here, where the pleasure and comfort know no bounds, your life begins.
GET AN EDGE IN MOBILITY
The rest of the world is at your feet. Come and go as you please, from your home to the train stations, from north to south or east to west of Metro Manila - all within minutes.
Take the MRT-3 whose route runs from North Avenue to Taft Avenue, and get the business districts of Makati and Ortigas and Bonifacio Global City without the usual traffic gridlock. Reach hotels, hospital, shopping centers and churches along EDSA quickly and easily. Top schools, such as the University of the Philippines and Ateneo in Quezon City and the University of Santo Tomas, Far Eastern University and University of the East in Manila, are just as accessible via the LRT-2.
And since both mass transit systems are linked to the LRT-1, get to Caloocan and to Parañaque in one go.
DEVELOPMENT FEATURES AND HIGHLIGHTS
Interior Typical Units
Entrance panel door with viewer
Individual electric and water meter
Individual mail boxes with keys
Provision for telephone and CATV lines per unit
Provision for cold water supply lines for toilets
Individual Condominium Certificate Title (CCT )
Executive Studio
Wood grain vinyl planks in living, dining and sleeping areas
Ceramic tiles in kitchen, toilet and bath
Kitchen with modular counter cabinet
Kitchen and toilet and bath with mechanical ventilation
Provision for window –type air conditioner opening and power outlet in sleeping areas
One-bedroom Residence
Bedroom with its own toilet and bath
Wood grain vinyl planks in living, dining and bedroom areas
Ceramic tiles in kitchen and toilet and bath
Kitchen with modular counter cabinet
Kitchen and toilet and bath with mechanical ventilation
Provision for window –type air conditioner opening and power outlet in bedroom areas
Amenities:
Grand entry through the Transfer Pavilion with a high-ceiling lobby
4 high-speed elevators at Transfer Pavilion and 3 high-speed elevators per tower
Commercial arcade at the ground floor
Jogging trail and fitness station, pergola, courtyard, garden plaza
Landscaped sun deck with swimming pool and water play pool
Sauna / spa, day care center and gymnasium
Tennis / basketball court, game room, business center and function room
Landscaped trellis covered walkway
Building Facilities / Services
Automatic fire sprinkler system for all units
Overhead water tank and underground cistern
Stand-by power generator for selected common areas
Building administration / security office
Maintenance and housekeeping services
Driver lounge for selected parking levels
Ample parking at the basement and podium levels
STANDARD PRICES:
STUDIO UNITS (WITH BALCONY)
28.5 sqm TCP= 1,972,950.00
40 sqm TCP= 2,763,000.00
STUDIO UNITS (NO BALCONY)
22.5 sqm TCP= 1,583,250.00
25.5 sqm TCP= 1,792,350.00
26 sqm TCP= 1,827,200.00
28 sqm TCP= 1,966,600.00
1 BEDROOM (WITH BALCONY)
45 sqm TCP= 3,151,500.00
2 BEDROOM (WITH BALCONY)
53.5 sqm TCP= 3,743,950.00
78.5 sqm TCP= 5,486,450.00

View Additional Photos related to MANHATTAN GARDENS CITY
Click
here
CLICK
HERE
TO INQUIRE ABOUT THIS PROPERTY
CLICK
HERE
FOR USEFUL TIPS ON BUYING A CONDO PROPERTY!!!
Disclaimer: The information found herein are subject to change without prior notice. Interested parties are requested to verify all information relating to the property prior to purchase. CONDO-PHILIPPINES .COM is not authorized to collect any forms of payments to clients & buyers please make all payments payable to the developer with corresponding OFFICIAL RECEIPTS follows.

DMCI Homes, Inc.

The country's first Triple A builder/developer. Fast delivery of Projects, RFO units available. "RENT-TO-OWN"For as low as 10%DP for mid-rise or 20%DP for high rise, lowest required DP to move-in in the industry today, Click

here